Discover more from Mixed Messages
A weekly newsletter all about the mixed-race experience, with interviews by Isabella Silvers (White British and Punjabi)
Over 2,000 subscribers
Jaega Wise: "I feel as welcome drinking Yorkshire tea as I do thinking about carnival"
The brewer on her close ties to Trini, being the 'foreign weirdo' and finding her people
Hi, welcome back to Mixed Messages! This week I'm speaking to brewer and author Jaega Wise, who is of white British and Trinidadian and Tobagonian heritage. Jaega has landed the title of Brewer of the Year twice as the Head Brewer at Wild Card Brewery and was also named one of the 10 most influential women in food by Waitrose. She's also the author of Wild Brews: The craft of home brewing, from sour and fruit beers to farmhouse ales. I was excited to speak to Jaega about how her heritage impacts her position in the predominantly white, male beer industry – read her story below. 
---
How would you describe your racial background?
My mum's side of the family are from Trinidad and Tobago in the Caribbean. My dad's side is from Hull. I lived in Nottingham as a baby before moving to Trinidad until I was about seven. I was there for three or four years before I came back to Nottingham. I have close ties from spending so much time over there.  
In terms of what I like to be called, I'm not bothered to be honest. What I've found is it depends on who you're talking to and the way you're viewed. I'm viewed as a Black woman. I am a mixed-race woman, and I identify closely within both areas. I'm not fussed, but I understand why people would be. 
Did it affect you moving from Trinidad to Nottingham? It's a big change!
I remember coming back to the UK and it was shockingly cold. I was in the taxi thinking, 'how can anyone live here?' I also felt like the foreign weirdo in school. There are little cultural things about the way you're supposed to behave, like in Trinidad I'd put my head down on the table when I was tired. I quickly realised that you don't do that here. 
The education system is also different. In some ways in early years education, you do a lot more than you do over here. I came back and we were reading Biff and Chip books, but I was way beyond that reading level.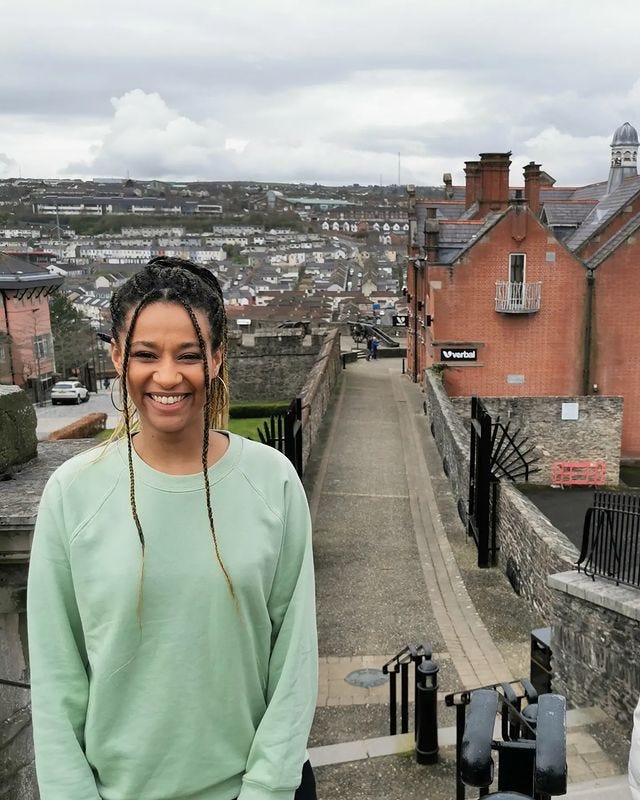 Do you think that time in Trinidad set a good foundation for you in terms of your sense of self?
Because I was so young, it wasn't something that I particularly noticed. It was only in school in Nottingham, where I was one of maybe five non-white kids, that I started to think about things like my hair. When you're starting to become a woman, you want to make yourself look neat and nice. It's much harder to be in that space with afro hair. I remember white girls would play with each other's hair, but it irritates the shit out of me to this day. No one can touch my hair. It drives me mad because as a child, I constantly had people telling me 'oh my god your hair is so this and so that.'
I made a lot of immediate friends at my university's Afro Caribbean society. I was suddenly completely immersed in Black culture and parts of me that were deemed physically unattractive at school, like being really freckly or having a big arse and thighs, were attractive now. That was an interesting, immediate shift, especially when you're just at the beginning of that sexual side of you.
That's when I noticed that I'd been living in a bit of a racial bubble, because those aren't the kind of issues you talk to your family about. When the friendship group shifts, the music, food and stuff you do to socialise changes. It was quite telling, really.
How does being mixed influence your career in the beer industry?
What's been cool is using lots of ingredients that I know from my background in beer. Sorrel is a drink, you probably know it as a type of hibiscus, and being able to use that freely and for other people to identify it has been pretty cool. Also dabbling in styles that are very Caribbean, like tropical stouts. The way you'd probably describe it is export Guinness. 
You can see it in our tap room and our team, diversity generally breeds diversity. I think it gives everyone a way into beer. When you talk to my mum and lots of Caribbean households, they'll say they don't like beer, but they always have Guinness in the fridge. You having Guinness and milk, or Guinness punch, is a beer-based drink. As a professional brewer, I'm like 'you obviously love beer!' 
It's always nice to welcome people from different heritages into beer because it helps us become better brewers when we have more diverse ideas.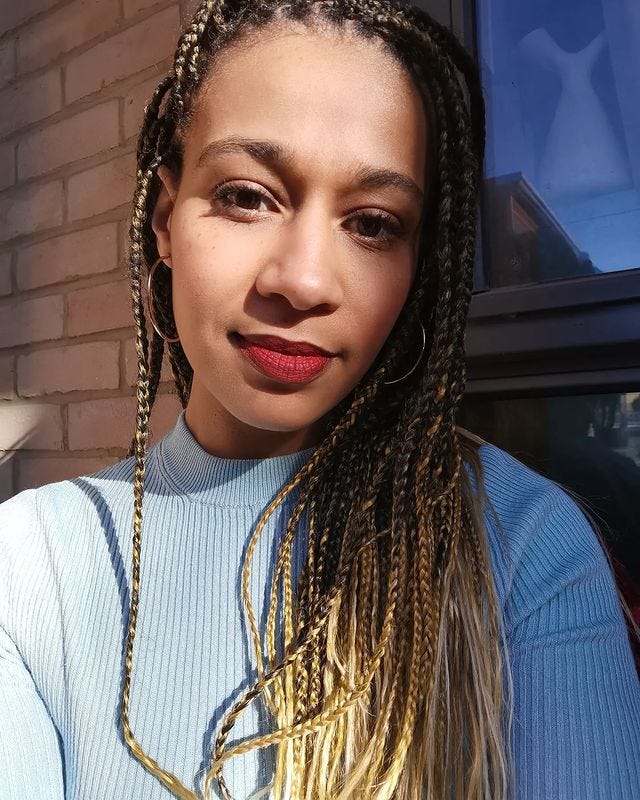 Have you noticed any stereotypes around mixedness? 
I experienced the most stereotypes with my hair. I dreamed of having the mixed-race girl curl, it eluded me all my life. My hair is very afro but almost straight afro, it doesn't curl well. But I'm also aware that I'm a kind of stereotype, I have the attributes of a mixed-race girl. 
I'm very prominently aware of the situation with my skin tone versus being a darker skin tone and the acceptability around that. I just think it's important to check your privilege. 
What's one of the best things about being mixed for you?
I really like the cultural aspects of it. I like the fact that when someone asks 'where are you from,' and everyone knows exactly what they mean by that, I can go home to Hull and be in the North of England and claim that as my hometown. I grew up here and my family are from here. But I can also go to Trinidad and say the same thing. 
I feel as welcome drinking a cup of Yorkshire tea and having a Sunday roast as I do thinking about carnival. But I'm aware that I'm older, I've lived a little and I'm very comfortable in my own skin in a way that I probably wasn't when I was younger.
I think it's helped having a wide variety of friends. The friends I made at uni have really stuck with me. I feel like I have a well-rounded friendship group. If I didn't have that, I don't know if I'd think differently. The cultural understanding, and being able to communicate with someone with a look and both know what's being said, is comforting.
Can you sum up your mixed experience in a word?
Complicated.
Get your copy of Wild Brews here. Next week, I'll be speaking to author Alexandra Sheppard. Subscribe to get Mixed Messages in your inbox on Monday. 
---
Enjoy Mixed Messages? Support me on Ko-Fi! Your donations, which can start from £3, help me pay for the transcription software needed to keep this newsletter weekly, as well as special treats for subscribers. I also earn a small amount of commission (at no extra cost to you) on any purchases made through my Bookshop.org affiliate links.
---
Mixed Messages is a weekly exploration of the mixed-race experience, from me, Isabella Silvers. My mom is Punjabi (by way of East Africa) and my dad is white British, but finding my place between these two cultures hasn't always been easy. That's why I started Mixed Messages, where each week I'll speak to a prominent mixed voice to delve into what it really feels like to be mixed.